The Gracie Books: The Two Doors, The Two Seeds, and The Two Gifts
Gracie is a little girl, but she is growing up. Through a magical door in her bedroom wall, she enters a world where she learns that how "growing up" turns out depends mostly on her.
In The Two Doors, Gracie learns that she can choose the person she will become by sending away hurts that have come her way. In The Two Seeds, she learns that she can create the world around her by choosing the thoughts she thinks. And in The Two Gifts, Gracie learns that she can make a gift more valuable by what she does with it.
The stories in The Gracie Books are designed to lodge deep within a child's heart and provide unforgettable images of the results of the choices he or she makes. It is our hope that as they stand in the moment of decision (how to think, how to feel, how to respond), they will remember Gracie. Perhaps, like her, they will be able to preview the outcome of those choices, and take the best of all paths laid before them.
A note from the author: Why did I write the Gracie books?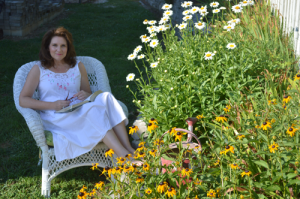 Jesus said to love God with all of our heart, soul, and mind.
The Greek word for "mind" has as one of its primary meanings "imagination."
It has been my experience that Christians know very little about the usefulness of the imagination in the practice of godly living. But imagination is a wonderful gift from God, provided to enhance and strengthen our love for Him and for others. I wrote The Gracie Books to help children learn to employ this wonderful gift, to become proficient in its use, and to enjoy using it for God's glory and for their own happiness.
I have a friend who often says, "We don't use our previewer enough." I think he is right.
Using our imagination as we make our way through the mysterious process of decision-making, can help us visualize the likely outcomes of choices set before us. Characters and situations from childhood stories frequently become models for us in this process, as they have for people throughout history. I could name examples, but I'm sure you have your own.   I hope that Gracie's stories become rooted in the hearts of our children, and that others will benefit from her 'experience' as they create their own ways of walking through magical doors into a future they are creating by their choices today.
– Shelly Forgey